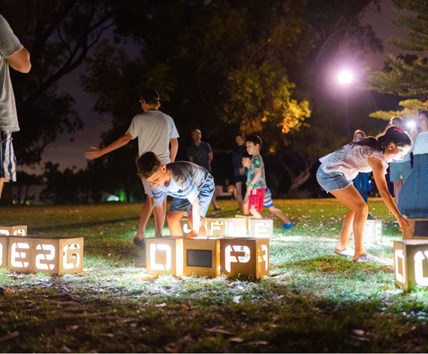 Over 3,000 people attended Claremont Park across three days for Town of Claremont's Le Parc Lumière event.
Over 3,000 people attended Claremont Park across three days for Town of Claremont's Le Parc Lumière event.

Friday and Saturday evening saw the park sparkle with 13 temporary light sculptures which included solar powered letter cubes by Steven Buckles and a wonderland of magical light insects created by Freshwater Bay Primary school students. These mega-insects were constructed from recycled materials.

All 13 pieces were judged by Geoffrey Drake-Brokeman (artist), Lauren Formentini (FORM) and Sam Fazzari (Mobilia) who scored the artworks against the criteria of audience engagement, creative use of light, value for money, technical skill, and composition and quality.

First place and the winner of $5,000, was awarded to Naz Sumadi with his piece titled Luna Transmission.  The interactive sculpture explored how circular motions are transformed into linear waves. Powered by solar energy the illuminated LED strips were animated through various lighting effects which added to the captivating wave patterns.

Throughout the event, the community were encouraged to vote for their favourite installation to decide the People's Choice Award. Anne Gee was the winner of this prize with her piece 'Preserve'. The installation was inspired by Anne's connection to the earth, the rhythms of the oceans, the beauty of the Australian landscape and her own imaginings.

"Preserve is a tribute to our beautiful earth and a call to action to re-think our life, work and play on this fragile planet." Anne Gee said.

"I'm thrilled to be awarded People's Choice and thank the Town of Claremont for giving so many artists an opportunity to share their work in what has been a very tough year for us" she said.

Sunday night saw the biggest crowd gathering to sing along with Perth Symphony Orchestra for the annual Christmas Carols festival.

Songs included Let it go (Frozen), All I want for Christmas (Mariah Carey) and traditional favourite, We wish you a Merry Christmas to complete the night and Le Parc Lumière event.

"It was wonderful to see the community come together to celebrate the magic of Christmas. We are very lucky to be able to enjoy the festivities during this time." Mayor Jock Barker said.

"Perth Symphony Orchestra never disappoints, we are so fortunate to have them join us each year and create a wonderful, family-friendly feel at Claremont Park." Mayor Jock Barker said.

The event also saw the debut of Conductor Kate Milligan, one of only a handful of female orchestra conductors world-wide.

"It was a pleasure for everyone at Perth Symphony to celebrate Christmas with the Town of Claremont once again. The event highlighted to me the importance of our local community—we are so lucky to be able to gather and sing together in times like these. The concert had something for everyone—'kids from one to ninety-two' as Nat King Cole puts it! A very merry evening for all." Said Kate Milligan.

"For an emerging conductor like me opportunities such as these are particularly special. Le Parc Lumière was my Perth Symphony Orchestra debut and it was a delight to perform to such a warm and receptive audience. A special thanks to all of the Claremont families who engaged so enthusiastically!" Kate said.

Across the three nights, activities also included a silent disco, face painting, glowing robots on stilts, hoola hoopers and special fire and light shows.

Visitors of the weekend shared many comments on social media extending their thanks and congratulations on a successful weekend.

"Thank you for such a fun and spectacular display of sculpture, song, food and memories" said local resident Patricia Mac.

The Salvation Army raised funds for their domestic violence homes as patrons were able to support them by purchasing a candle and carols program. Both the carols and programs sold out.