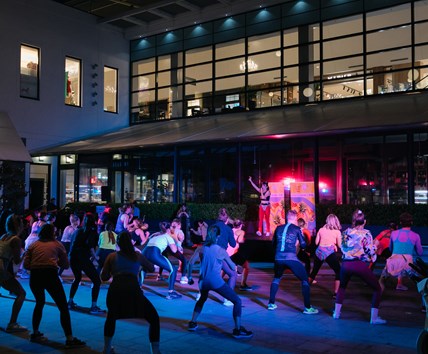 General news

Arts & Culture
Town of Claremont has awarded $100,000 of grants to local businesses to support night-time activations across its Town Centre.
Town of Claremont has awarded $100,000 of grants to local businesses to support night-time activations across its Town Centre.

More than 30 events have been sponsored across 16 different grants helping to invigorate, inspire, collaborate, and deliver exciting night-time offerings for the community.

From community aerobics classes to fashion shows, live music and gallery VIP openings, the grants have encouraged a vibrant nightlife culture throughout Claremont.

Claremont Mayor Jock Barker said the grants had brought in an incredible range of events which in turn have provided social, cultural and economic benefits to the Claremont Town Centre.

"These grants are part of our ongoing commitment to support the local economy in the town centre and further afield in the Claremont community," Mayor Barker said.

A fashion show held by Mauricio Alpizar in Maude Jackson Walk was an example of how the Town's support has provided collaborative opportunities with several businesses coming on board for the event.

"The event was a huge success, incredibly well received by all who attended," Mr Alpizar said.

"It spawned another collaboration with Icon Bar in Claremont and we were able to build collaborative relationships with Fika Swedish Kitchen (now Moose Café) and Liberty Liquors."

The Chris Wilson Wellness Festival was another example of how a collaboration of local businesses and support of the Town can create a hugely successful event.

The festival incorporated a variety of wellness offerings and stalls from surrounding businesses as well as free fitness classes for the community.

"To bring together a wide range of people including children was a huge success," Mr Wilson said.

"Many people commented on the fact that it was promoting health with it being an alcohol-free event where kids could be involved and could see their parents exercising which was very encouraging to educate them on the importance of health."

A late-night DJ and Yoga class with Tamara Yoga showed how both local and out-of-area patrons were able to enjoy these activations, noting that many of the attendees lived out of the local area.

"We were extremely happy with the turn out, in particular we were happy to draw so many people from outside Claremont to the event," yoga teacher Ari Platell said.

"Only 5 of the attendees lived in the local area, which shows people are happy to travel for unique events they are interested in and excited about."

Grants applications will continue through next financial year.

"Local businesses seeking advice on launching their own events or looking at cross promotion with the Town are encouraged to contact us," Mayor Barker said.